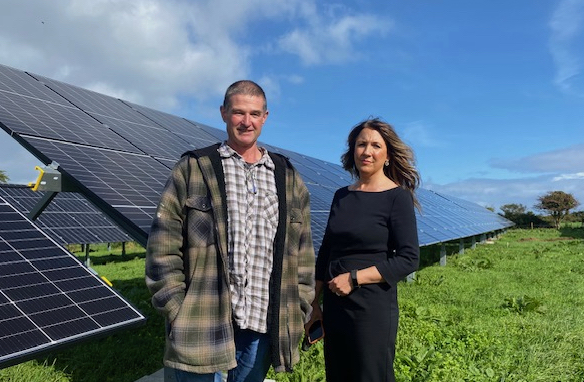 The popular Cornish organic ice-cream brand, Roskilly's, has invested more than £200,000 in a new solar power system, with help from Ignition.
The 211.68kw system includes 500 solar panels which are situated in fields on Roskilly's working dairy farm in St Keverne. The system will help to power the milking parlour, ice-cream production, restaurant, shop and offices, considerably reducing the company's energy bills in the long-term and saving around 60 tonnes of CO2every year.
Ignition arranged a bespoke hire purchase finance package to cover the upfront cost of the panels and installation by supplier Ivy Solar, with affordable repayments to be made over a 6-year term. It is anticipated that the new system will provide at least 25% of Roskilly's energy each year. Taking into account the company's existing 100kw solar system, this will mean that around 37% of its annual energy will be provided by solar power.
Director, Toby Roskilly, comments:
"After 60 years as an organic dairy farm and more than 30 as an organic ice-cream manufacturer, environmental sustainability has always been at the heart of the Roskilly's family business. We are proud to be reducing our carbon footprint, whilst continuing to provide our customers and visitors with quality products and experiences. Ignition has helped us to take this step in a way that is immediately affordable for the business and will help to protect us against rising energy costs in the future."
Eleanor Smith, Ignition's business development manager and solar specialist, comments:
"Roskilly's new solar panels are an excellent addition to the business, providing significant financial and environmental benefits. By helping the company to manage the initial investment costs, we were able to provide a win-win solution that will continue to reap rewards for both the company and the planet."
If you would like to discuss how solar can help your business, then give us a call today.